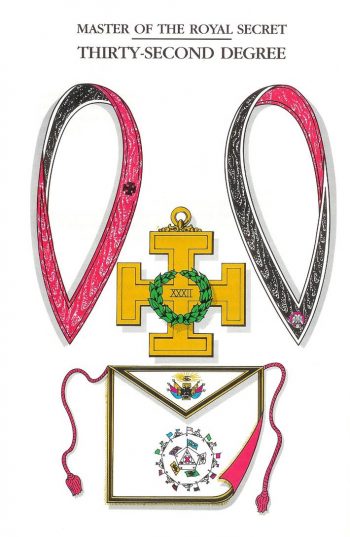 Consistory Officers and Degree Summaries
31° – Inspector Inquisitor
In this degree the apprentice learns prayerful self-examination. The mistakes today should not be committed tomorrow. Simply, the daily look at ones self to learn to live with the future. No apron is worn in the Supreme Tribunal, but the traditional apron displayed is of pure white lambskin with a Teutonic Cross of black and silver embroidered upon the flap. The jewel is a silver Teutonic cross. The jewel is suspended from a white collar, with a gold triangle with a "31" inside it.
32° – Master of the Royal Secret
The lessons taught in this degree are that genuine brotherhood requires mutual regard, opinion, esteem and charity. We always look for the good in all, make allowances for others' shortcomings. We trust the Supreme Architect to lead us to friendship, morality and brotherly love. The apron worn in this degree is white, lined in black, with a double-headed eagle and a plan of the Camp of the Princes. The jewel worn is a golden Teutonic Cross. In the center are the letters XXXII, surrounded by a green wreath. The cap of a Master of the Royal Secret is black silk with a black band trimmed in gold. In the center front is a double-headed eagle emblem with a rayed equilateral triangle above in gold. The triangle is red, has 32° in its center, and is trimmed with gold.